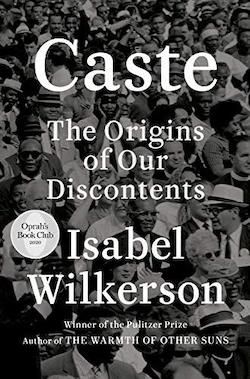 The GW SMHS Office for Diversity and Inclusion, Anti-Racism Coalition (ARC) and Center for Faculty Excellence invite all SMHS faculty and staff to register and participate in a Book Club discussion series on the book Caste: The Origins of Our Discontents by Isabel Wilkerson. 
This important book is required reading for all incoming Medical Students.  It is an immersive, deeply researched narrative and stories about real people, how America today and throughout its history has been shaped by a hidden caste system, a rigid hierarchy of human rankings. Linking the caste systems of America, India, and Nazi Germany, Wilkerson explores eight pillars that underlie caste systems across civilizations, including divine will, bloodlines, stigma, and more. She points forward to ways America can move beyond the artificial and destructive separations of human divisions, toward hope in our common humanity.
This book club will consist of 3 sessions, one each month September through November, held virtually via Zoom. Participants are encouraged to attend all 3 sessions, but welcome to attend as available.
Attend if you:
Have read the book, and want a place to discuss it
Work with students who will have read the book, and want to be prepared to discuss with them
Are interested in building your capacity for creating inclusive spaces in your workplace or the learning environment
All SMHS Faculty and Staff are invited
Format
Initially, sessions will meet via Zoom, with a large-group introduction, followed by smaller breakout groups for discussion.  Participants will be provided with a discussion guide to help facilitate conversation and learning. If interest warrants, we will provide information for participants to form location-based discussion groups. 
Sessions
Based on initial interest and availability, each session will be offered two times - Tuesday at noon and Wednesday at 5 pm.  
Session 1 (Book parts 1, 2, 3): Tuesday, Sept 28, noon and Wednesday, Sept 29, 5:00 pm
Session 2 (Book parts 4, 5): Tuesday, Oct 26, noon and Wednesday, Oct 27, 5:00 pm
Session 3 (Book parts 6, 7): Tuesday, Nov 30, noon and Wednesday, Dec 1, 5:00 pm
Where to get the book 
The book is available at most major booksellers.  We recommend purchasing through Mahogany Books.  
Most local public libraries have copies (though several still have waiting lists)
The Office of Diversity and Inclusion has a limited number of copies that can be loaned out.  Please contact ODI to request one of these copies. 
Additional Resources 
While it is our preference that all participants read the entire book, we know that sometimes life gets in the way of our plans.  If you would like to participate in the discusison, but have not had time to finish the book, here are a few additional resources that might help.
Registration
To register for this book club, please fill out this form.  Once you have registered, you will be sent the Zoom meeting information as well as the discussion guide.