The Center for Faculty Excellence is proud to support SMHS faculty in the transition to online and hybrid learning during the COVID-19 pandemic.  If you would like a personalized consultation regarding your course or session, please contact the CFE to set up an appointment.
In addition, GW Libraries and Academic Innovation has a helpful website with resources for Virtual Teaching. 
Below are some resources and guidelines for those developing and supporting online learning.
Designing your class or session
Steps for faculty
For those teaching in a block or clerkship, contact your block or clerkship director to determine what time and options are available – they may have suggestions for the best way to move forward to deliver your content to the students.
Decide how you want to provide your content to the students.
Confirm with block/clerkship directors (and OME)
Locate and/or create any instructional materials that you need to distribute to students.
Once your materials (video, readings, assignments, etc) are ready, send them to OME to be posted for student access. 
Follow up on the Blackboard site to make sure that you are available for student questions and concerns, since they weren't able to meet with you in person.  Block directors and OME will be able to provide access to Blackboard discussions if you do not know how to do so. 
Asynchronous Teaching
Asynchronous Teaching is any of the activities that students can do on their own time/at their own pace. These activities can include reading content/articles, watching videos, completing formative assessments, interacting in online discussions, and many more.  Asynchronous activities can still have deadlines but are not necessarily completed at the same time other classmates are active.  The sections below detail different methods and tools for creating asynchronous activities and content.
Record lectures/videos to post online
Voice-over-PowerPoint
Note: If you are teaching in a pre-clinical block, please contact OME to find out how to send your video file to them for posting.  Instructors teaching in pre-clinical blocks do not have access to upload files or videos directly in Blackboard.
Panopto
Panopto is an online video platform that allows users to easily create, edit, and add quizzes to video content.  You can simultaneously record from both a webcam and your screen.
Which Panopto do I use?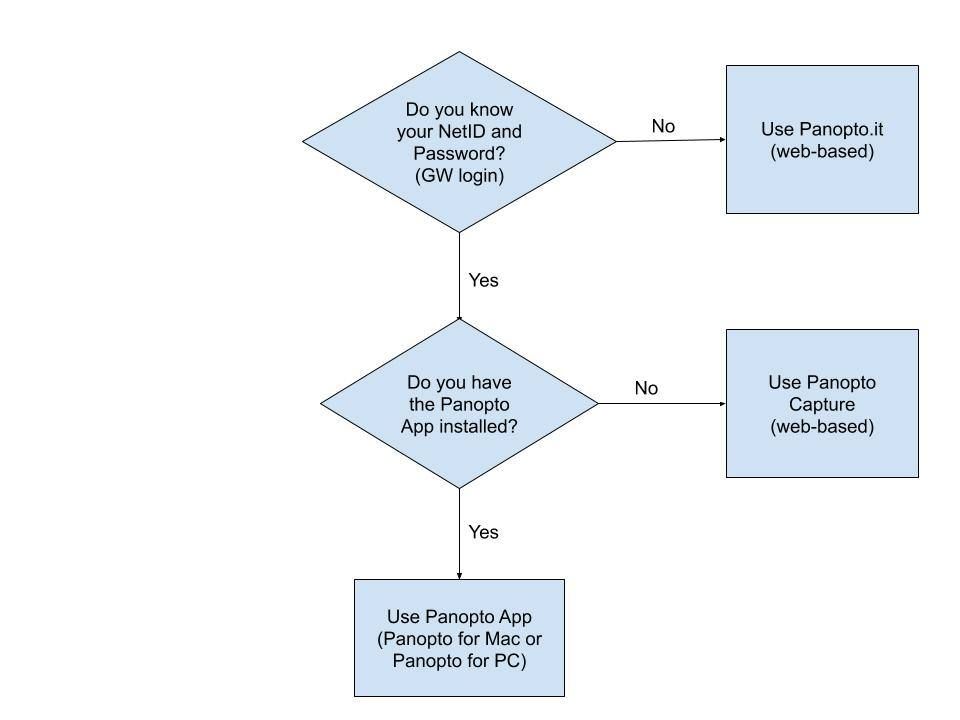 In order to record a video, you will need to install the Panopto Recorder application.  The application can be found in Software Center on SMHS computers.  For other computers, you can access the download from Panopto Online.  You will be prompted to login – make sure to select the "Blackboard" dropdown option and use your GW NetId and password.
Once you are logged in, click on the download Panopto icon in the upper right-hand corner of the page.
How to Record a Video on Panopto
Note: if you are recording a session for a Block or Clerkship, contact the director or OME to identify what folder you should save the video into.
Editing your Panopto Video
The Panopto editor allows you to trim the beginning, end, or sections in the middle of your recording. 
If you record your video into the folder for a course, the video will be automatically shared with the users (students, faculty) of that course.  For pre-clinical courses, if you record into the folder designated by OME, the OME staff will be able to move that video into the appropriate Blackboard course to give students access.
Interactivity
Multiple Choice Questions

Camtasia – Camtasia is a paid product that allows you to add interactivity (questions, zooming, annotation) to a recorded video.  For more information, contact the CFE.

Blackboard quizzes

Blackboard quizzes can be created and distributed to students.  Quizzes can be graded or ungraded, and can have a variety of question types (Multiple Choice, Fill in the blank, Short answer, Essay, etc).

Discussions
Previously Recorded Sessions
If you would like to reuse a session that was recorded last year on the same topic, please contact OME with as much of the following information as possible about the previous year's session: 
Class Name
Session Name
Faculty Name
Date of recording (or your best guess)
Room in which session was recorded
Also, please provide detailed instructions about what students should do with the lecture:
Is all of the content relevant?
Should they focus on a specific section?
Is there additional content that you will provide to supplement this recording?
Since the recording was not directed at this audience, it is likely that you will need to provide some additional detail about the recording to help the students focus on key content.  You can also edit the recording to include quiz questions (this is especially helpful if the recording includes Poll Everywhere – it allows this year's students to interact in a similar way).
Tool Options to Record Your Lecture
Use this table to choose the appropriate tool for your lecture:
 
PowerPoint
Panopto
Camtasia
VoiceThread
Audacity
Explain Everything
Installation Requirements

Most faculty have PowerPoint
Available for download on home computers via GW IT

Software must be installed (available through Software Center or Blackboard)
Also available in classrooms/lecture halls in Ross Hall.

Pay-for-purchase (30-day free trial available)
Available on select Himmelfarb laptops (can be checked out for ~1 week)

Software must be installed (available through Software Center or free download)

iPad app - after free trial, contact CFE for purchase options

Computer Requirements
PC Only (do not use PowerPoint for Mac to record)
PC/Mac
PC/Mac
PC/Mac (iPad with app)
PC/Mac
iPad
Editing Abilities
Edit slides; Re-record narration on individual slides
Yes; remove segments, errors, etc; insert new recordings
Yes; remove segments, errors, etc; insert new recordings 
Re-record narration on an individual slide
Edit audio in detail (remove pauses, errors, etc)
Yes: annotation, video, edit audio & video, insert new recordings
Posting to Students
Save as video; OME load into Panopto
Automatically uploaded to Blackboard once recording is finished. Contact OME to move as needed.
Save as video; OME load into Panopto
Post directly in Blackboard
Save audio file; OME will load audio and separate slides (if applicable) into Blackboard
Save as video; Can load into Panopto
MD: OME will load into Panopto for Pre-clinical courses
Variable Playback Speed (Student preference)
Once loaded into Panopto
Yes
Once loaded into Panopto
No
Depends on playback tool used.
Depends on playback tool used.
Student interaction
No
No
Yes - can add quizzes/knowledge checks
Yes
No
No
App for iPad
No
View; not Create
No; Output can be viewed on iPad
Yes
No
Yes
Slide Annotation Recorded
Limited (can capture mouse movement while recording)
Limited (captures mouse movement while recording)
Yes; additional animations can be added after recording
Yes
No
Yes
Help/Training Guides

PowerPoint Office 365 (PDF) - or update to Office 365 (PC or Mac) for free!
PowerPoint 2016 (PDF)

How to Record with Panopto for PC (PDF)
How to Record with Panopto for Mac (PDF)
Editing Panopto Videos (Video Link)
Note: if you have a tool that you prefer to use, and are comfortable using (e.g. Captivate, Quicktime), you are welcome to continue to use that tool and provide OME with the output video.  This table is intended to help those who do not know which tool to choose
Synchronous ("Live") Sessions
If you prefer to deliver your lecture "live" rather than pre-recording it, you can set up a session in Blackboard Collaborate or Webex so that students can log in to attend real-time or can view the recording of the session later. (Be sure to set the session to record). In this environment, you can share slides, share your screen, use a whiteboard, and allow students to ask questions all while part of the synchronous session.
Tools available and supported by GW and SMHS: 
For information on each of these tools, and how to conduct a Live Synchronous Session, please see the Web Conferencing Tools page.