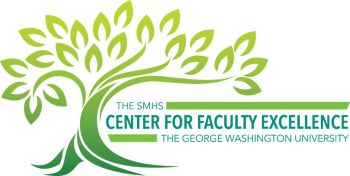 Newsletter Archive
The CFE sends out a monthly newsletter with upcoming development workshops, programming, and resources. To join our mailing list and receive information on upcoming offerings, please subscribe here.
2023

Archived Newsletters
CFE Faculty Spotlight
Excellence in teaching & Learning, scholarly endeavors, and leadership are all around us at the GW School of Medicine and Health Sciences. In an effort to highlight the amazing contributions of our faculty, the Center for Faculty Excellence would like to shine a spotlight on various faculty members and their continued success and excellence within medical and health education.
Each month the CFE will highlight faculty members from across our GW SMHS community based on their current projects, research, and work.
January 2023

Join the CFE as we highlight Dr. Lisa Schwartz who discusses her professional journey from clinical work in Genetic Counseling to teaching in higher education and involvement in education research. Lisa shares her upcoming initiatives within GW and SMHS and provides insight into her Jane Engelberg Memorial Fellowship from the National Society of Genetic Counselors (NSGC), for a grant titled "An Exploration of Genetic Counselors' Professional Identity." Read our full interview with Dr. Schwartz here.

2022

Dr. Maram Alkhatib and Dr. Zareen Zaidi American Medical Association funded project, "Unpacking the stranger: Xenophobic Experiences of Arab Women in Academic Medicine." Maram and Zareen discuss their project, the importance of mentoring, and how they received the AMA Joan F. Giambalvo Fund for the Advancement of Women grant. Read the full interview here.

 

Join the CFE as we highlight Brandon Beattie, who discusses his journey from US Army Medic to practicing Physician Assistant, and now Assistant Professor in the Department of Physician Assistant Studies. Brandon shares his unique perspectives in teaching, training, and his passion for reducing barriers for fellow veterans and underrepresented minorities through holistic admissions procedures. Read the full interview here.

 

Join the CFE as we highlight Dr. Melissa Carroll, who discusses her current projects and research that is both identifying the lack of representation and diversity in medical and health education, but also providing solutions and resources for diverse anatomical illustrations. Dr. Carroll discusses her evolution as an anatomist and advocate for inclusive teaching and practices. She is the recipient of two major funding initiatives from the American Association of Anatomy (AAA) - Portfolios of People: Advancing Anatomical Representation Together (POP AART) and the Global Neuroanatomy Network (GNN). Read our full interview with Dr. Carroll here.